Polling Day! Federal Elections
20 October 2019
Voters are due to elect the members of the House of Representatives and the Senate for the next four-year parliamentary term on October 20. The political left is likely to make gains at the expense of parties to the right in the Swiss parliament, according to national trends and results from recent cantonal elections. About 5.3 million citizens can take part in the elections, including registered expatriate Swiss citizens.
If you are a Swiss citizen abroad, you can find detailed information for each canton on voting in the next Council of States election on 20 October 2019 here >
Find out more about your voting rights and democracy in Switzerland on www.ch.ch/democracy
A great tool to see which candidates represent your own political viewpoint, take a look at the Smart Vote spider: https://www.smartvote.ch/de/home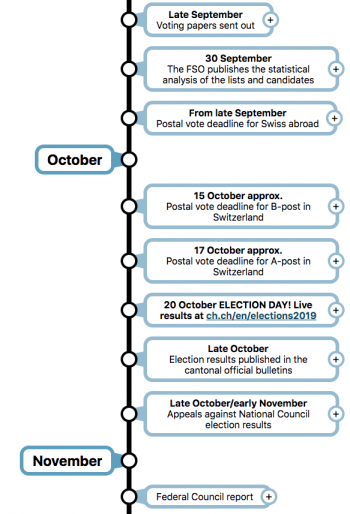 Federal Act on Tax Reform and OASI Funding
Federal Decree on the Approval and Implementation of the Exchange of Notes between Switzerland and the EU on the adoption of Directive (EU) 2017/853 amending the EU Weapons Directive (Development of the Schengen acquis)
e-Voting
Important note: No Swiss living abroad will be able to use e-voting in the October Federal elections. If you are not registered to vote, don't delay and contact the Swiss Embassy London or consular representation without delay here >
Our tireless UK Delegates report back on issues affecting Swiss Abroad, one of which is e-Voting. For the current status and links to more in-depth analysis, visit our dedicated page on e-Voting >
Franz Muheim is standing in the Federal election
UK Delegate to the Council of the Swiss Abroad and FOSSUK President, Franz Muheim has been nomimated to stand in the 2019 Federal Election for Zurich.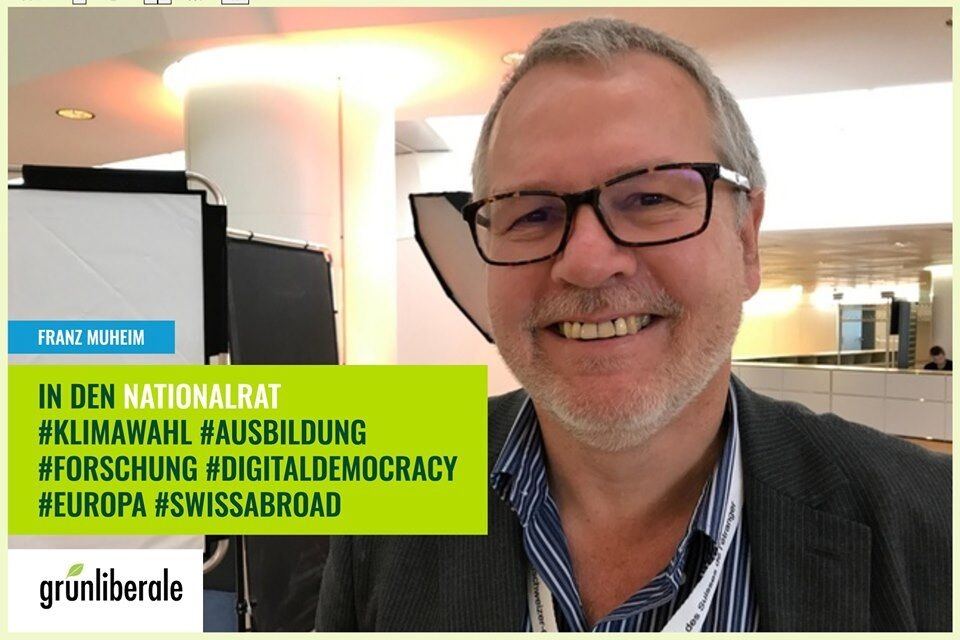 Franz Muheim's manifesto policies are outlined on his website www.franzmuheim.ch >
"Physicists find simple solutions to complex problems
- also in politics"
Franz discusses digital democracy and e-Voting with SwissInfo > (German)
Voting rights of Swiss citizens abroad
Swiss citizens aged 18 and over – including Swiss citizens abroad – are entitled to vote at federal level. Some cantons and communes also grant the right to vote at cantonal and communal level to Swiss citizens abroad, and in certain cases to non-Swiss citizens.
If you are a Swiss citizen abroad, you can vote at federal level (e.g. in National Council elections). To vote, you must be registered with your Swiss representation abroad, which in the UK is the Swiss Embassy London. You must also be registered on the electoral roll of your last commune of residence in Switzerland or, if you have never lived in Switzerland, in your place of origin.
Voting rights of Swiss citizens abroad: information and forms
Who can stand for election to the National Council?
The Federal Constitution provides that any citizen who is entitled to vote in Switzerland may stand as a candidate for election to the National Council. The Swiss abroad enjoy this right, provided they meet the base conditions:
be Swiss citizens,
be at least 18 years old,
not be under guardianship or other form of deputyship because of mental illness or mental incapacity.
Swiss citizens abroad must also:
be domiciled abroad;
indicate the commune in which they have the right to vote. In general, this is the last commune in which they lived in Switzerland. If the Swiss person living abroad has never lived in Switzerland, the electoral commune is the place of origin;
be registered in this commune by an official at the competent Swiss diplomatic mission (Swiss embassy or consulate general abroad) so that they can be recorded in the register of Swiss abroad;
be registered on the electoral roll of their commune by an official of the competent Swiss diplomatic mission.