Settlement Scheme to remain in the UK after Brexit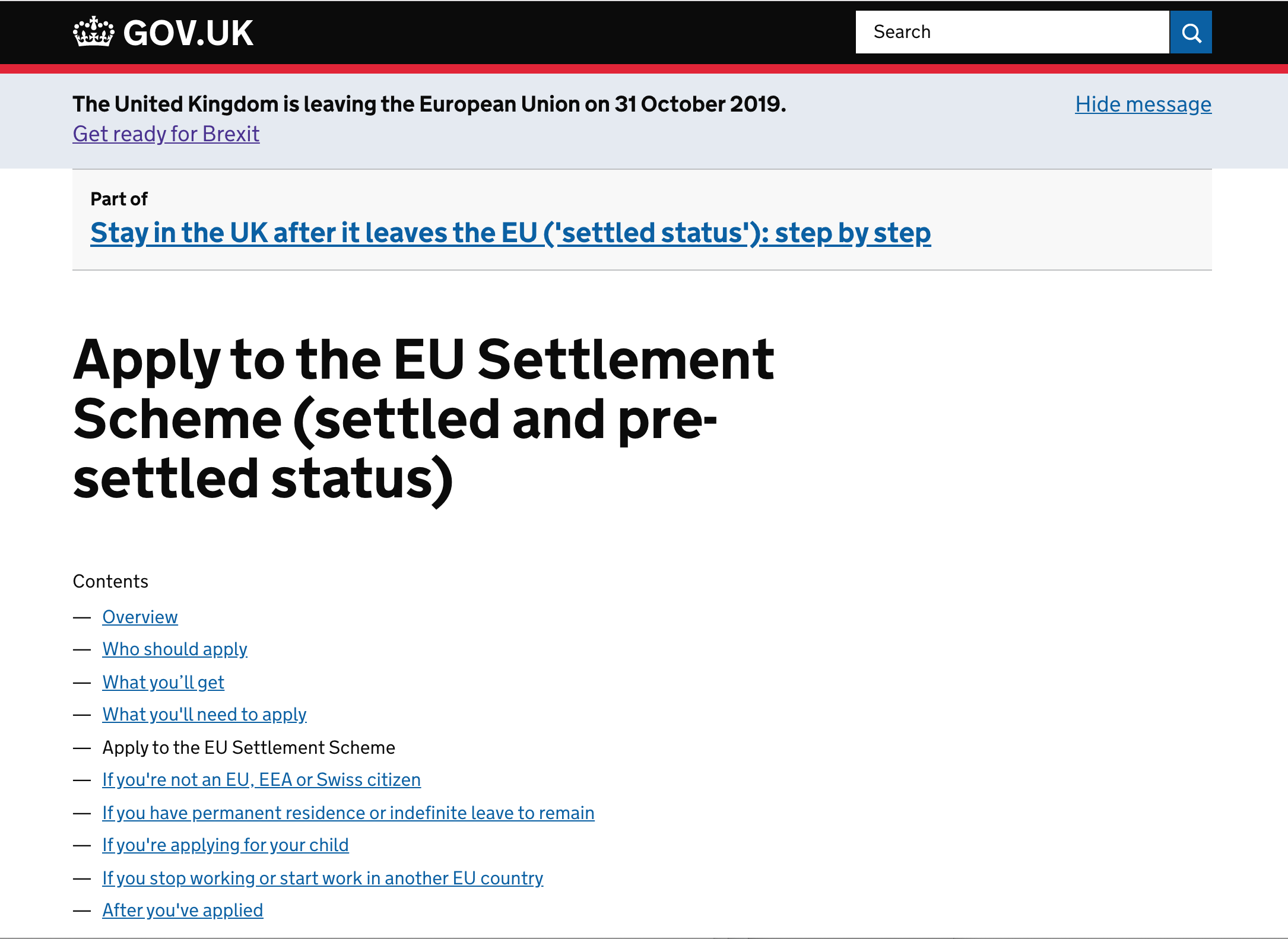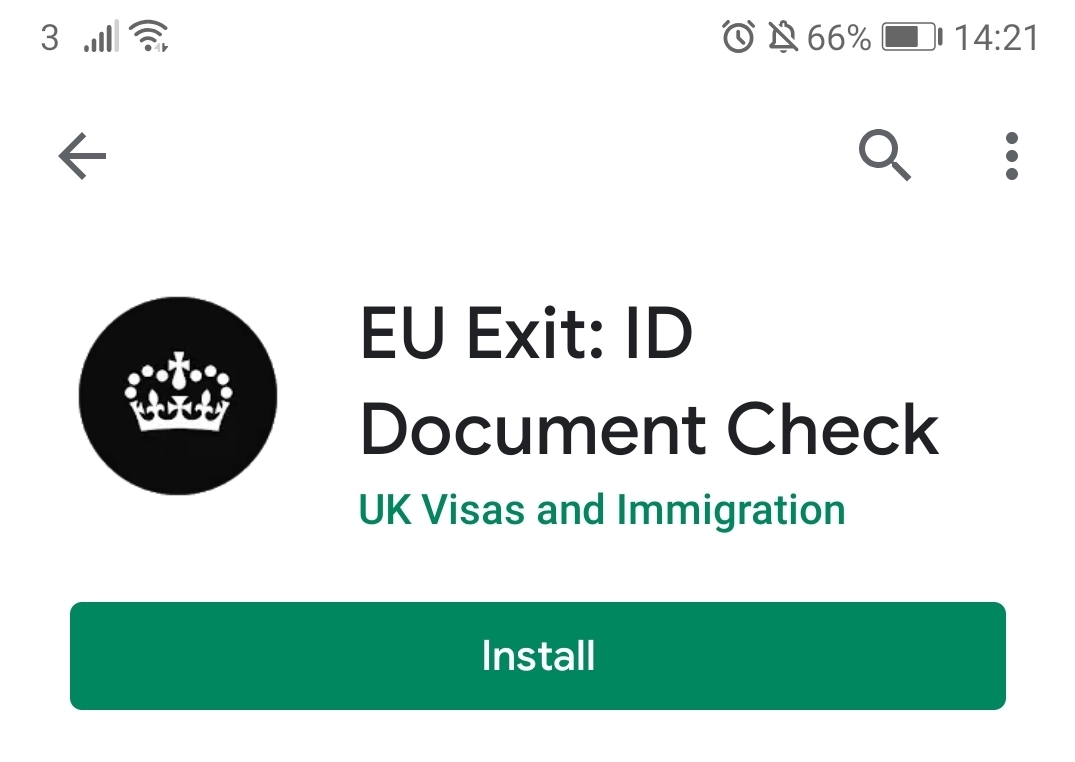 Download the Android-only Home Office App to verify your identity before you begin your application for pre-settled or settled status if you with to remain living and working in the UK after December 2020.
Settled Status application: A step by step by a Swiss citizen
Swiss citizens (and their family members) wishing to remain in the UK beyond December 2020 have to apply for a new residence status under the EU Settlement Scheme, called settled or pre-settled status.
Acquiring settled or pre-settled status will allow Swiss citizens to continue to live, study and work in the UK, to have access to public funds and services and to go on to apply for British citizenship if they wish to do so. Applications are free of charge.
Swiss citizens married to a British citizen without British Citizenship or Indefinite Leave to Remain must also apply. However, UK-Swiss dual nationals must not (and cannot) apply. They already have full rights of residence in the UK.

From the Swiss Embassy in London:
I have been given settled/pre-settled status. What do I have to do now?
There will be no physical document evidencing your settled or pre-settled status. Instead, successful applicants will get proof of their status through an online service.
Once you have been granted settled status, you only need to make sure that you keep your online status up to date. If you receive a new passport or a new identity card, if you change your name, or if you change your email address or phone number, you have to update your status here.
If you have been granted pre-settled status you also have to keep your status up to date. In addition to that, once you have accumulated five years of continuous residence, you have to apply for settled status.
Q&A with Ambassador Alexandre Fasel on Brexit and the rights of Swiss citizens in the UK
A Facebook LIVE broadcast with the Ambassador of Switzerland to the UK, Alexandre Fasel and Joachim Tomaschett, Head of Political and Legal Affairs at the Embassy of Switzerland in the UK.

Home Office – EU Settlement Scheme Video (with subtitles)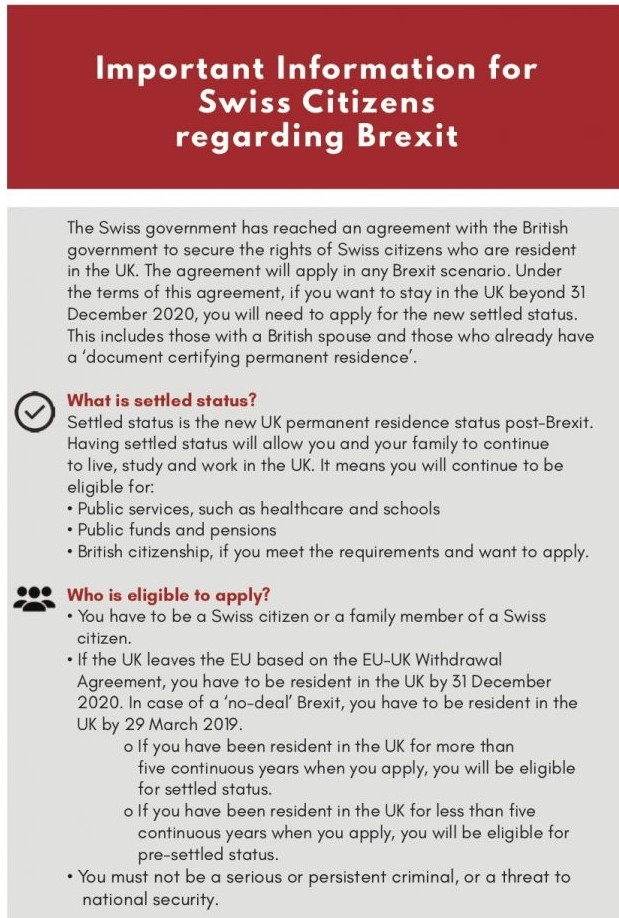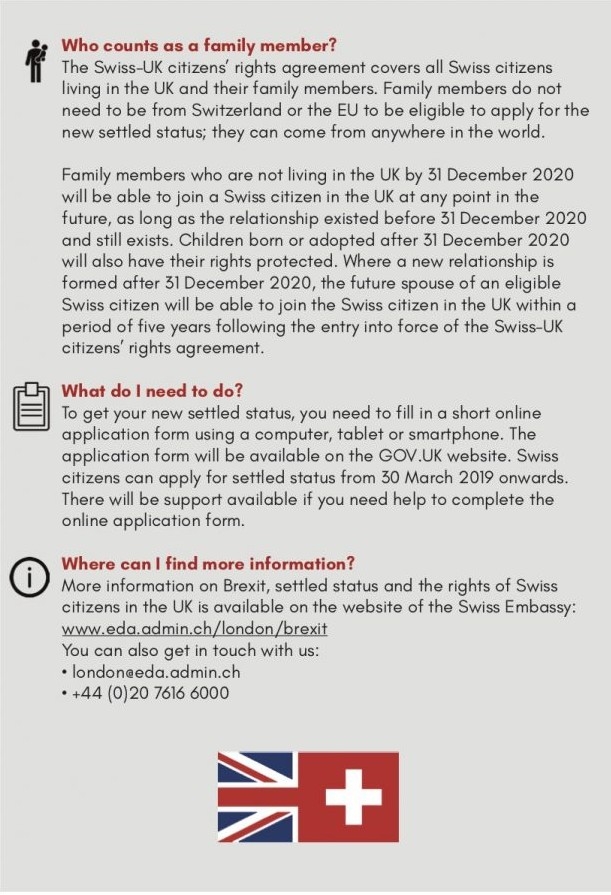 A talk with Swiss Ambassador Mr Fasel &
UK OSA delegate Franz Muheim
In preparation for the UK's exit from the EU Switzerland and the UK reached an agreement on citizens' rights in December 2018. Every Swiss citizen and their family members looking to remain in the UK beyond December 2020 can apply for the new permanent residence permit, known as settled status.
In response to this important news, we have addressed some questions to the Swiss Ambassador to the UK, Mr Alexandre Fasel and to Mr Franz Muheim, UK delegate to the Council of the Swiss Abroad (CSA) and member of the CSA Executive Committee.
[Article published in the 1/19 Issue of the Swiss Review Regional UK Pages; interview by Gioia Palmieri.]
Ambassador Alexandre Fasel
Swiss Review: Has the Embassy undertaken any additional planning in case of a no-deal scenario?
Ambassador Fasel: We have deliberately ensured that the agreements we have reached with the UK government, including on citizens' rights, trade and aviation, cover any possible Brexit scenario including no deal. In the event that there is not a deal between the UK and the EU, the agreements will come into force on the day of departure in March. If there is a deal, they will come into force at the end of the transition period.
SR: How do you plan to reach every Swiss citizen living in the UK in order to ensure that they are aware of the option to apply for settled status?
FAS: As well as through these pages, we have a regular newsletter which is emailed to all Swiss citizens registered at the Embassy. Through this, we've sent updates at every important stage of the process so far. We also use our social media channels including Twitter and Facebook, and I will take part in a live Q&A on Facebook later this month, so please check our social media channels to find out when this is scheduled or to watch back. Additionally, we regularly update the FAQ document on our website and have staff ready to answer queries by phone and email. If any of the Swiss clubs wish to organise an information event, I or a colleague will be delighted to attend to answer questions in person.
SR: Does the Embassy have any outstanding concerns about Swiss expats' rights in the future?
FAS: In short, no. The agreements are comprehensive and have been concluded at an early stage. We've had assurances from the UK Home Office that the Settled Status application process has shown to be straightforward during testing phases and that decisions will be reached quickly. Once the scheme opens we will of course monitor it closely and communicate any concerns or feedback that the Swiss community has expressed to us directly to the Home Office.
Franz Muheim
SR: Which are the positive aspects of this citizens' rights agreement that the Swiss community should be aware of?
Franz Muheim: Swiss citizens in the UK will need to know how to safeguard their status in the UK after Brexit. A major concern is the uncertainty about what will actually happen. Will the UK parliament accept the withdrawal agreement with the EU, will there be a disastrous 'No Deal' or will there be a people's vote with remain as an option? The agreement between Switzerland and the UK will define the status of Swiss citizens who are not dual nationals and live in the UK after Brexit. This is excellent news. It will prevent Swiss citizens from being further in limbo about their status. Using its 'Mind the Gap' strategy, Swiss Government negotiated a deal which will leave us in a status which is at least as good as that of the 3 million EU citizens.
SR: As a Swiss citizen living in the UK, which are your main concerns regarding the application for settled status?
FM: A key feature of the agreements between Switzerland/ EU and the UK is that Swiss and EU citizens resident in the UK will have to apply for settled status. However the approval will not be automatic and there will be over 3 million people applying. This is a huge task and things will very likely not fully go as planned. I recall that in 2016/2017 the Home Office rejected over 20% of the applications for certified residency by EU applicants which all had lived in the UK for over five years. Even if this failure rate is reduced significantly there will be Swiss citizens for whom the application process could become very painful.
After Brexit we will have an electronic settled status without a residence card or a stamp in our passport. This could disadvantage a Swiss citizen looking for jobs or housing or opening bank accounts, e.g. by employers, landlords or banks simply not bothering to check. It is also very worrisome that the UK Government plans to share our settled status data, including a recent picture, with 'public and private sector organisations in the UK and overseas.
SR: According to the Government webpage, an application will first undergo an automatic check based on tax and benefit records.
What do you think?
FM: I hope this will be sufficient to grant settled status for professionals, salaried workers or self employed with a regular income. While a pilot project with EU citizens applying seems to confirm this, I am worried that the application process could work less well for unpaid carers of children and elderly, for retired Swiss in the UK and for young Swiss who have left school or university and are trying to find a job. In addition, all of us will need to support the Swiss who will need help with submitting their application via a smart phone.