These are the arguments that sank e-voting in Switzerland
Extract from an article by Renat Kuenzi for SwissInfo.ch
The idea of e-voting in Switzerland has been a bold dream, but the future of the entire project is now in doubt. Sceptics seem to have won the day, at least for the moment.
So what issues do experts have with it?
Let us first remember what has happened. The federal government put out a proposal to use an e-voting system but opponents, in this case computer scientists, were sceptical and critical. There followed an emotional debate among politicians, civil servants and the computer scientists, leading to an informed decision.
It was decided that the danger of vote manipulation is too great, for it runs the risk of breaking Switzerland's political backbone of direct democracy. Democracy also means, however, that no decision is ever cast in stone.
Sceptical experts
Hernâni Marques and Adrian Aulbach were among the sceptics. Marques is a computer linguist, sociologist, neuro-informatics researcher and member of the board of Chaos Computer Club Switzerland. He is from Zurich.
Aulbach is a software developer, and he will stand for the Green Party in the next general election. A native of the Bernese Oberland, he spoke here in his capacity as a software specialist.
SwissInfo.ch democracy specialist Renat Künzi asked the two men about their doubts round this issue.
E-voting Timeline
Switzerland has tried two e-voting systems: one developed by canton Geneva, and another by the Swiss Postal Service. Ten out of the 26 cantons have tried out one of these e-voting systems.
November 2018: Geneva pulled the plug on its system – it was costing too much.
February 2019: A multi-party committee launched a people's initiative for a moratorium of at least five years on e-voting.
March 2019: A team led by IT specialist Sarah Jamie Lewis in Canada tested the Swiss Post system. They found majorexternal linkproblems. In particular, they broke down its individual as well as universal verification system. The "error message" coming from this group caused great dismay.
March 2019: Just in time before a nationwide vote on May 19, Swiss Post pulled the plug on its own system. The reason: security concerns.
June 2019: The federal government called off the plan to recognise e-voting as an official "third way" to vote in Switzerland.
July 2019: Swiss Post scrapped its e-voting system altogether. But it intends to develop a new system. This one will not be ready for testing until 2020.
Three cantons are now demanding compensation from Swiss Post, and a fourth is considering such a move.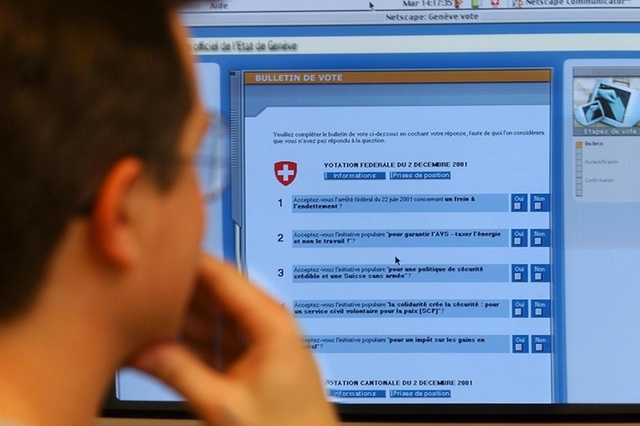 Voting at the click of a mouse is now history. Experts expect it to take a long time to come back, if at all.
(Keystone / Laurent Gillieron)
UK Delegate to the Council of the Swiss Abroad and FOSSUK President, Franz Muheim discusses digital democracy and e-Voting with SwissInfo > (German)
Organisation of the Swiss Abroad e-Voting Petition
OSA's call on the Swiss Federal Council & Parliament to make e-voting available to all Swiss Abroad by 2021. The petition gathered 11,492 signatures and was handed to the Federal Chancellery on 30 November.
Our UK Delegates are keeping a keen eye, and support the introduction of e-Voting for all Swiss Abroad. Read more about the e-Voting petition here and review our Delegate Reports to keep abreast about the issues UK Delegates are raising at OSA meetings.