New Helvetic Society
The New Helvetic Society is a Swiss cultural club founded in 1916 organising a wide range of events with a Swiss connection.
Whether you are a Swiss national or have a special interest in the social and political culture of Switzerland, the New Helvetic Society will give you a unique opportunity to meet with like-minded people. Our events are open to members and non-members alike.
Type of Functions
Apart from jazz and classical concerts, films shows, visits to art galleries and social gatherings, we provide a forum for discussing issues concerning Swiss nationals resident in the UK. We offer an opportunity for people to exchange views on social, political and cultural developments taking place in Switzerland. From time to time we invite speakers to talk about various aspects of the British way of life.
Contact
President, Loredana Guetg-Wyatt
Vice-President, Marine Paclet
Camilla Ghislanzoni, Treasurer
info[at]newhelveticsociety.org.uk
Visit our website: www.newhelveticsociety.org.uk
New Helvetic Society on Facebook: www.facebook.com/NewHelveticSociety
Please write to us at:
New Helvetic Society
c/o Swiss Embassy
16 – 18 Montagu Place
London
W1H 2BQ

Unione Ticinese
The Unione Ticinese is one of the oldest Swiss Clubs in the UK, founded in February 1874 in London.

Type of Functions / Venues
Social, cultural and educational activities, guided tours, gastronomic and musical gatherings which embrace past traditions and today's values of the Canton Ticino.

Number of Members
Over 150 members

Contact
Emilie Martinoni Hoogenboom
utpresident1854@gmail.com
Visit our website: https://utlondon.org
Follow us on Twitter: https://twitter.com/ut_london
Like us on Facebook: https://www.facebook.com/UnioneTicinese

City Swiss Club London
Founded in 1856 in London, the City Swiss Club is one of the oldest Swiss clubs with a strong foundation and interesting history. The Club has traditionally played an important role in the social activities of the Swiss community in London.
Type of Functions / Venues
Social Evenings at the St. Moritz Restaurant, 161 Wardour Street, Soho
AGM / Dinner at Mosimann's
Bi-annual Banquet and Ball at Claridge's
Bi-annual Thames Boat Excursion

Number of Members
The Club has approx. 200 members

Contact
Malti Lenzlinger
info@cityswissclub.org
Visit our website: www.cityswissclub.org
Follow us on Facebook: www.facebook.com/CitySwissClub

Swiss Church London
Greater London is home to about 20'000 Swiss citizens who have found a home away from home at the Swiss Church for over 250 years. Many Swiss people have spent most of their lives in London. Nowadays, young Swiss people often move here for a few years for studies, on a work placement or to gain work experience before moving on to another place.
London is an exciting place to live, but it can also be lonely and anonymous. The Swiss Church London is not only a place of worship, but also a community centre for Swiss people and friends to network, make new friends and cherish Swiss traditions. Everyone is welcome, irrespective of one's religious affiliation.
Contact
Find out more about Swiss Community Groups that meet at the Swiss Church and other community events we are involved with on our dedicated website section:
www.swisschurchlondon.org.uk/community/swiss-community-groups/

Follow Swiss Church London on Facebook: www.facebook.com/swisschurchlondon/ and www.twitter.com/SwissChurchLond
Write to us at:
The Swiss Church in London
79 Endell Street
London WC2H 9DY
Phone: 020 7836 14 18
Email: info@swisschurchlondon.org.uk

East Surrey Swiss Club
Founded in 1986 in Wallington

Type of Functions / Venues
Meals and entertainment
We meet mostly at the Church Hall

Number of Members
The Club has approx. 40 members
Contact
Renée Boyce, Reigate
01737 215 591
reneeboyce1@yahoo.co.uk

Swiss Club Manchester
Founded in 1850 in Manchester
Type of Functions / Venues
Varied social events including summer BBQ's,Talks and National Celebrations.
AGM, Usually March/April at Prestbury Village Hall

Approx. 150 Members
President: Mr Dieter Senn
Email the President of Manchester Swiss Club

Contact
call: 0161 948 4045
email: ftblum [at] gmail.com
Find out about upcoming events and follow the conversation on Facebook: www.facebook.com/swissclubmanchester

Swiss Benevolent Society
Founded in 1703 in London
Charity Registration Number: 1111348

The Society's principal aim is to enhance the quality of life of fellow Swiss, old and young, from all walks of life, who are experiencing difficulties. The Society employs a welfare officer who fulfills its objectives. The Society's income is derived from its return on investments, an annual Swiss government subsidy, donations, and legacies.
The Society needs your help too, to continue its important work with the Swiss community - find out more about making a donation or leaving a legacy for this good cause.
Contact Details
Petra Kehr Cocks, Welfare Officer
Swiss Benevolent Society
79 Endell Street
London WC2H 9DY
Tel: +44 (0)20 7836 9119
Fax: +44 (0)20 7379 1096
E-mail: info@swissbenevolent.org.uk
Visit our website: www.swissbenevolent.org.uk

Swiss Club Edinburgh
Contact
Call Ruth Muheim: +44 (0)79 136 71916
Email Edinburgh Swiss Club
Visit the website: www.swissclubedinburgh.co.uk
Join the conversation on Facebook: www.facebook.com/swissclubedinburgh

About Swiss Club Edinburgh
The Swiss Club Edinburgh was founded over 50 years ago. Currently the Club has approximately 45 members. The Swiss Club Edinburgh provides an opportunity to meet people, who are Swiss or have a connection to and an interest in Switzerland and live in Edinburgh, Fife, the Borders or the Central Belt of Scotland.

Within the Club we celebrate Swiss events and culture and we are always open to new ideas. It is a place where connections and friendships are made, where you can get information from people who have lived in Scotland for a couple or for many years. The Swiss Club Edinburgh holds 6 to 8 meetings per year from Fondue Evening, National Day Celebration to outings and more, which provide opportunities to meet in a casual way. A "Stammtisch" takes place every first Wednesday of the month.

Some of the events of the Swiss Club Edinburgh are held at the Saughtonhall Community Centre in Edinburgh.

Please join us for an event, if you are interested, and get to know Swiss people living in Scotland.
Committee
President: Ruth Muheim
Vice President: Franz Muheim
Secretary: Sepp Jans
Treasurer: Alec Lamb
Committee members:
Sandra Dufing, Ursula Lamb, Sandra Wenk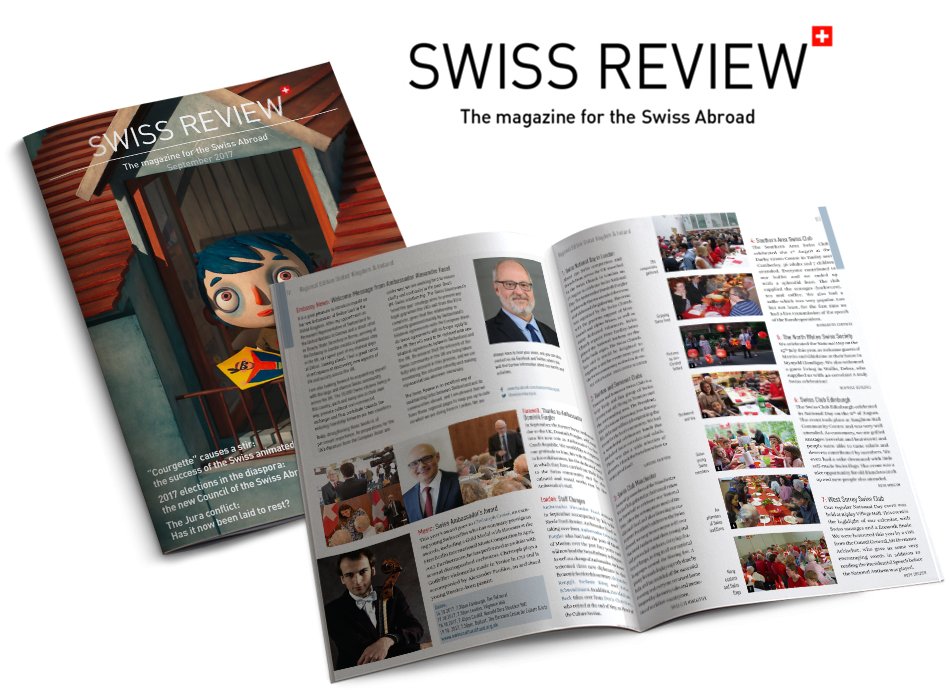 SWISS REVIEW APP
You can now download and read the Swiss Review at your leisure on your smartphone or tablet too!
HOW'S YOUR DAY?
WEATHER
| | | | | |
| --- | --- | --- | --- | --- |
| | | | | |